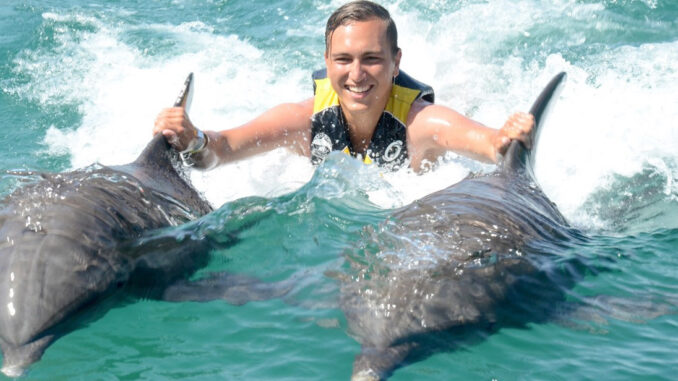 Por Georgina Cruz
For AL DIA TODAY
"Last week we were shoveling snow –and look at us now!" a man was telling his companion at the beach at Half Moon Cay, Holland America's idyllic private island in the Bahamas, a highlight of the line's Caribbean voyages, particularly among people trying to escape winter. The couple, fanned by balmy breezes, had talcum-powder-quality sand under their toes and a panorama of calm, bluer-than-blue waters as far as the eye could see.
And in addition to balmy breezes and beaches in wintertime, there is much more to justify the popularity of Caribbean cruises: several beautiful islands with rainforests, cascades and colonial towns to explore, but unpacking only once, and a battalion of staff to see to your every need –from keeping your cabin ship-shape every day to serving you gourmet fare every evening. And the Caribbean cruise experience is even more delightful when the vessel whisking you from one idyllic island to another is Holland America's newest ship: the Nieuw Statendam, with all her modern amenities and legendary caring, friendly staff.
My husband Humberto and I sailed on her this November for 14 days and had the time of our lives. Among our favorite, memorable moments of the cruise are the following:
· Two days spent at Half Moon Cay – Our 14-day itinerary made two stops here and it was wonderful. This island paradise is ideal for swimming and snorkeling in crystalline, turquoise waters and offers an abundance of activities including stingray encounters, horseback riding excursions and parasailing. And after the adventures we could opt for a delicious lunch of grilled lobster tail with Caribbean rice and beans and pineapple sauce with a side of calypso music by a local band.
· At Amber Cove in the Dominican Republic we visited Ocean World, a water park with enough attractions to spend a fun and relaxing day. Among the pastimes included in a day pass are dolphin, sea lion, shark and bird shows –visitors are also able to snorkel in the Tropical Reef Aquarium and go for a walk in a rainforest trail. Other pastimes include optional swims with dolphins.
· San Juan, one of the brightest stars of the Caribbean, continuing to recover from the 2017 Hurricanes Maria and Irma, welcomed us with many options including a driving tour to a waterfall at El Yunque National Rainforest Park, a musical show with Caribbean dances, and tours to Old and New San Juan and the Spanish fortresses of El Morro and San Cristobal. We went for a stroll in Old San Juan, a favorite of ours with its colonial architecture, cobblestone streets and picturesque plazas.
· In St. Thomas, U.S. Virgin Islands, the possibilities for relaxation and fun are varied and include a morning or afternoon at beautiful Magens Bay with its heart-shape and aquamarine waters, and a visit to Coral World, a marine park that recently re-opened after sustaining damage during the 2017 hurricanes. Next to Coral World is lovely Coki Beach, great for swimming and snorkeling.
· Cozumel, a sacred island for the Mayans as they considered it as their "Eden" from where they sprung up and went on to populate the continent, offers much to modern visitors. Among the attractions is Chankanaab National Park, with a beautiful lagoon that is like a big aquarium with lots of marine life. Optional excursions to the Mayan ruins of Chichen Itza in the Yucatan, one of the New Seven Wonders of the World and a UNESCO World Heritage Site with its imposing Pyramid of Kukulkan were offered as were trips to the Mayan ruins of Tulum near Playa del Carmen on the Caribbean Sea are among the offerings.
And, of course, the Nieuw Statendam herself is a highlight –a floating island in itself. Holland America's newest vessel and the second of its Pinnacle Class, she is a sister ship to the Koningsdam. A modern, medium-sized ship launched in December of 2018, she accommodates 2,666 passengers in elegant comfort. Her interior design is inspired in the fluid lines of musical instruments and boasts an abundance of art and floral arrangements to create a gracious, pleasant ambience. Guests find onboard all the facilities and conveniences modern cruise passengers expect: a spa, pools, casino, main dining room and alternative restaurants including Rudi's Sel de Mer with French cuisine and delicious seafood, the Grand Dutch Café with delectable pastries and light lunch bites, and the ever-popular Pinnacle Grill with steaks, seafood and other gourmet fare.
Activities and entertainment on the Nieuw Statendam include culinary demonstrations and classes from America's Test Kitchen, lots of live entertainment at the Music Walk with varied venues including the Lincoln Center Stage, Billboard Onboard, Rolling Stone Rock Room and B.B. King's Blues Club. And in addition, there are BBC Earth Experiences with live music in the main show lounge, the World Stage, a two-level state-of-the-art theater.