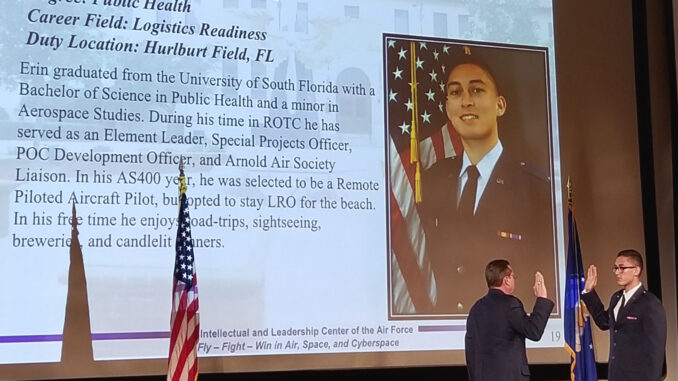 By Lt. Col. Ralph Gracia
Guest Columnist
Thank you to the "Al Dia Today" Bilingual Newspaper for allowing me to share a success story about my son, Erin. Four years ago, Erin started his journey at the University of South Florida (USF). I would always tell him that graduating from college is not the end, but the beginning of a beautiful life. Last month I experienced two lovely ceremonies. First, his graduation from USF, and second, his commission as a second lieutenant in the United States Air Force. My wife, Enid, and I are so proud of his many achievements. It was also moving to deliver the oath of office like the one I received from my parents 36 years ago, and the one we experienced with Erin's sister, Charlene on May 2012. It takes hard work, but in the end, it pays off!
To succeed in the future, you need to perform exceptionally well at all that you do and take great pride in your accomplishments. Being surrounded by parents, family, and friends who are there for you is also important in the quest for success and happiness. I once read, "the purpose of education is to turn mirrors into windows." As a result, you achieved your goals, and now, a promising, bright career. You've worked so hard to get to this point and you began this life as a beautiful baby boy, but grew up to be a handsome, young man. Your serious efforts have paid off and you deserve every bit of it.
I remember my son saying to me, "Dad, the two most important days in your life are the day you are born and the day you find out why. Through these words from Mark Twain, I will achieve my dream." I realize in life, things don't sink in as fast as you would like, but in my case, my son sees how important it is to work hard and be patient in life. I shared with him to enjoy the fruit of your hard work and dream big. A quote from Sonya Parker brings this together, "Dr. King had a dream, but he also worked hard to make his dream come true, you have to do the same." You've done your part and soon will be standing proud for our country. As you embark on your first military assignment at Hurlbert Field, Air Force Special Operations Command, may your achievements be the beginning of a future filled with success and happiness.