By Javier Molinares
AL DÍA TODAY
ORLANDO — On Sunday, September 24, 2023, the United States Hispanic Chamber of Commerce (USHCC) commenced its highly anticipated 44th Annual National Conference at the scenic Loews Sapphire Falls Resort in Orlando, Florida. The event, a symbol of excellence and networking, drew Hispanic business leaders nationwide for a night of camaraderie and entertainment during the Welcome Reception.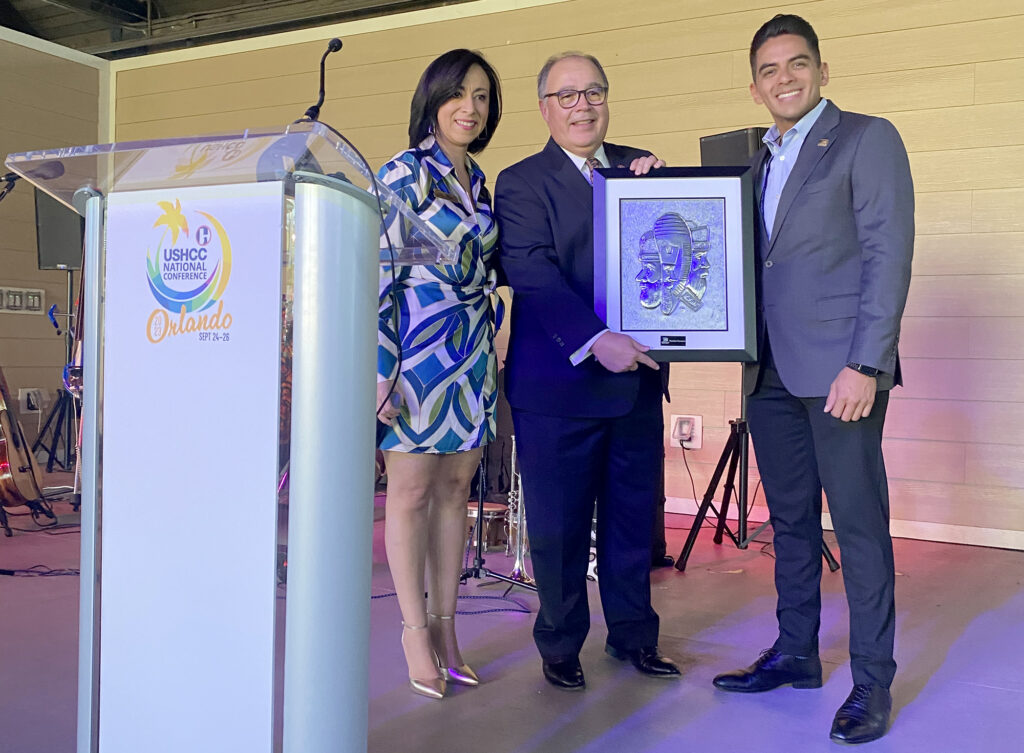 The 2023 USHCC National Conference, from September 24 to 26, 2023, at the Loews Sapphire Falls Resort, is the largest gathering of Hispanic business leaders in the United States. It unites Hispanic Chambers of Commerce, influential Hispanic business figures, and corporate collaborators, all dedicated to advancing Hispanic economic growth for the broader American economy.
The conference for this year, themed "The Future is Now: Elevating Latino Businesses for Tomorrow," empowers attendees through interactive, policy-driven dialogues with America's corporate leaders, members of Congress, federal officials, and other influential partners. It provides an avenue for sharing insights on fortifying and expanding Hispanic-owned enterprises, offering networking opportunities, and presenting a united voice for the country's five million Hispanic-owned businesses.
Karen Irwin, President and Chief Operating Officer of Universal Studios Hollywood, radiated enthusiasm as she assumed the role of host and a distinguished sponsor for the event. Irwin underscored the imperative of endorsing diverse suppliers and partnerships, emphasizing the invaluable contributions of inclusive, diverse perspectives within the business realm.
Irwin also revealed groundbreaking developments within Universal Studios, including the forthcoming Universal Epic Universe, scheduled to unveil its wonders in 2025. This monumental investment is poised to invigorate tourism in Central Florida for years.
"This new park is going to feature two additional hotels as well, and our guests can choose from 10 amazing hotels and 11,000 rooms when they visit our world-class destinations and parks," exclaimed Irwin, igniting anticipation.
Gaby Ortigoni, President and CEO of the Hispanic Chamber of Commerce for Greater Orlando, extended a warm welcome to attendees, underscoring the significance of hosting this prestigious conference in Orlando. She spotlighted the vital role played by the Hispanic community in the region's burgeoning and multifaceted economy.
Emphasizing the value of collaboration, Ortigoni extended recognition to several elected officials in attendance, including state representatives and Orange County dignitaries.
Mayor Buddy Dyer of the City of Orlando underscored the city's steadfast commitment to diversity and inclusion. He highlighted Orlando's distinction as the nation's most visited destination and its vibrant Hispanic community, constituting 35% of the city's population.
"We are happy to welcome the U.S. Chamber Hispanic Chamber of Commerce to the City of Orlando for their annual conference. This marks the first time they've convened in our city, and we're excited to host an event representing the interests of five million Hispanic businesses nationwide," said Mayor Dyer.
Mayor Dyer elaborated on the city's ongoing initiatives to diversify its economy, creating high-wage careers in innovative sectors such as life sciences and technology. He proudly mentioned innovation hubs in Medical City and Creative Village, envisioned as catalysts for economic expansion and job creation.
Reymundo "Rey" Ocañas, Director of Community Development Banking at PNC Bank, acknowledged the hurdles faced by minority businesses and reiterated PNC's unwavering commitment to extending support, particularly to Hispanic and Latino entrepreneurs. Ocañas highlighted PNC's proactive efforts to facilitate access to capital and valuable resources for minority-owned businesses.
Ramiro Cavazos, President and CEO of the United States Hispanic Chamber of Commerce, delivered the closing remarks, celebrating the extraordinary economic prowess of Latino businesses, which contribute a staggering $3.2 trillion to the U.S. economy. He rallied attendees to seize the opportunities presented during the conference, concluding with a resonant message: "This is our time."
As the 2023 USHCC National Conference unfolds, it promises to be an event replete with networking opportunities, enlightening discussions, and a grand celebration of Hispanic business excellence—all against the backdrop of Orlando's vibrant and all-inclusive community.