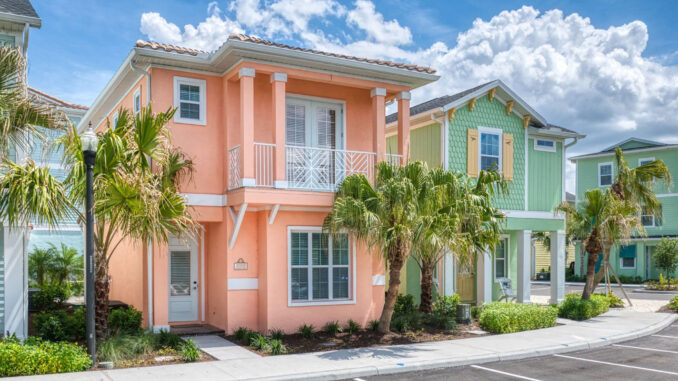 By: Georgina Cruz
Each fall, my husband Humberto and I take a few days to get away from our daily routines and recharge ahead of the busy holiday season. This year we chose a place where vacationing is a state of mind.
The minute the traveler arrives at the AAA Four-Star Margaritaville Orlando Resort, it is crystal clear that total relaxation and escape are the order of the day here. A giant, 13-foot-high, red flip-flop adorns the resort's tropically-inspired lobby along with a chandelier made out of more than 300 margarita glasses welcomes guests with a complimentary cocktail. I knew right then and there that I would be enjoying "nibblin' on sponge cake, watchin' the sun bake all those tourists covered with oil…" as Jimmy Buffett's hit song of 1977, "Margaritaville," proclaims. Not to mention also enjoying a "frozen concoction" or two.
Inaugurated in 2019, Margaritaville Orlando has 186 rooms and suites equipped with floor to ceiling windows to enjoy the resort's panoramas of lagoon-like pools and balconies for sunbathing and relaxing. There is a spa, restaurants and next to the resort a water park and a shopping and dining district.
In addition to the hotel rooms and suites, the resort has a collection of cottages for rent, the lodging option Humberto and I chose.  The cottages, offered by Rentyl, ranging in size from one to eight bedrooms, provide the best of both worlds: the privacy of a house and access to the resort's facilities and amenities. Painted in ice cream colors, the cottages have a tropical Caribbean vibe, and the comforts of home include a complete kitchen, washer and dryer, separate bedrooms and even a blender for the "frozen concoction" that helps Jimmy Buffett hang on.
After settling into our cottage we headed for the Euphoria Fish House, named after Buffett's favorite yacht. An upscale restaurant it offers a variety of seafood including delicious lobster bisque and salmon, and excellent beef fillets and chicken for non-seafood lovers. The Euphoria Fish House Lounge offers live music. A casual restaurant to enjoy burgers and hot dogs (maybe washed down with a margarita –which as you would expect are superb here) is Salty Rim Bar & Grill which also offers live music. And Provisions is an establishment offering sandwiches and other grab and go items.
And when it comes to meals, options are plentiful at adjacent Sunset Walk, where guests find a variety of restaurants and shops, including Estefan's Kitchen, singer Gloria Estefan's restaurant serving her famous roast pork with ripe plantains, rice and black beans and other Cuban cuisine specialties. In addition to restaurants and shops, Sunset Walk also has entertainment venues with live music and a movie theater.
Our days at Margaritaville Orlando Cottages included relaxing time at the Fins Up Beach Club, with its tropical lagoon pool with sandy shores and palm trees that give it a Caribbean beach ambiance, a pampering parenthesis at the resort's St. Somewhere Spa (which offers massages, facials and other services inspired in the tropics) and a fun visit to the H2O Water Park with its slides, lazy river, wave pool and other attractions (it opens from March to November). Complimentary buses take to Walt Disney World, Universal Orlando and SeaWorld Orlando, but we skipped those this time, preferring to relax at the resort.
Other options of cottage-style accommodations with access to resort amenities near Margaritaville Orlando include Encore Resort at Reunion with four- to 13-bedroom houses and access to a water park and sports facilities, and the Bear's Den Resort Orlando, with four- to eight-bedroom homes and access to golf, water park and more.
Information: For details on Margaritaville Orlando Resort, visit Our Central Florida Getaway | Margaritaville Resort Orlando (margaritavilleresorts.com). For information on Margaritaville Orlando Cottages, visit Margaritaville Resort Orlando Cottages by Rentyl (margaritavilleresorts.com). For Encore Resort Reunion, visit Encore Resort | Luxury Vacation Homes Near Disney (encorereunion.com) and for Bear's Den Orlando visit The Bear's Den Resort Orlando | Jack Nicklaus Luxury Vacation Resort (bearsdenorlando.com). For information on Rentyl properties, go to https://rentylresorts.com.