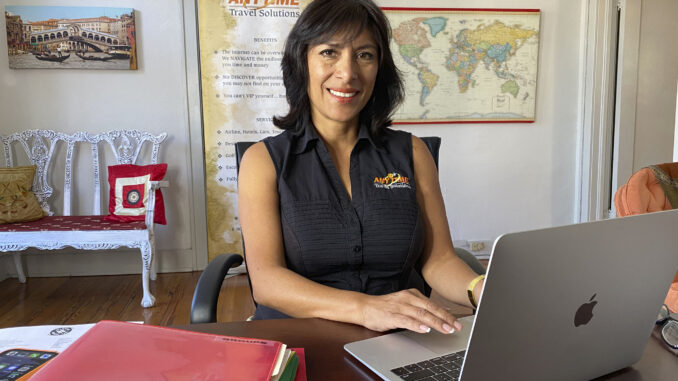 By Elizabeth Pugo
For Al Dia Today
MELBOURNE – With a suitcase and $300 that her boyfriend gave her to call him, Cecilia Fiestas arrived in the United States in 1990. She left Peru and came to Miami to meet with her father. It was the beginning of a new and uncertain stage in her life.
Since then, more than 30 years have passed. Currently, she is married to Chuck Meacham and has two children. Known as Cessy Meacham in the local and business community, this hard-working mother and wife has dedicated her life to the tourist industry.
As a travel agent, Meacham has been to various locales in almost half the world and continues to seek challenges. She has traveled to about 70 countries, including 27 trips to Italy and 11 visits to Peru. She said her next trip will be to Antarctica, while overcoming the aftermath of the Covid-19 pandemic crisis that left her with great economic losses.
From her travel agency, Anytime Travel Solutions, located at 909 E. New Haven Ave., Suite 203 in downtown Melbourne, Meacham smiles and remembers her professional beginnings in Miami. It was a journey that allowed her to experience success while also navigating the disloyalty of best friends, being left with nothing, and having to "start from scratch" to rebuild her life.
Meacham lost her mother at a very early age. She grew up with her father and her brothers. While she was waiting for her father to get a visa to travel to the U.S., Meacham began working in tourism in Lima, the Peruvian capital.
Her sister got her a position at an agency; that's where Meacham's first trips, meetings, and first experiences with corporate travel began.
"Since I started, I fell in love," Meacham said, reflecting on her 38 years in the travel industry.
"It was a vocation that I definitely never gave up on," said Meacham. She moved to Miami when she was 23 years old.
Like most newcomers, Meacham says she was bewildered by her new surroundings, not knowing what to do. A businessman friend she met in Peru encouraged her to open a tourist agency with him.
"The business was completely different, and the experience I had didn't help me at all," Meacham said. "I worked for a few months with my friend, but I decided to continue independently."
To make end meets, she needed another job.
Additionally, she didn't know how to speak English, so she started taking classes.
While in class, one of her teachers suggested Meacham work as a security guard because the position didn't require in-depth knowledge of the English language, and she got a position working for a security company in the Port of Miami.
"The pay was lousy, but I liked it," she recalls.
Working as a security guard in the Port of Miami, she learned about ships. She also met with immigration and custom agents, international ship crews, learned English with Greeks and Filipinos, and met the personnel of large tourist cruises. Her supervisors loved her and allowed her to choose where she wanted to work.
Later, around 1995, she focused on working on corporate or business trips.
"They were very lucrative, but also very demanding," said Meacham. "Business travelers need things now and they have to be perfect."
In 1999, Meacham opened her first travel agency with two partners and worked with large firms in Miami. It was a decade of hard work, many travels, and exploring new destinations.
Then, in 2006, she moved with her husband and her two children to Melbourne, where she focused her work on pleasure tourism, targeting destinations such as Italy. At the beginning, she opted to plan trips only for women, initially.
Meacham mentioned that a decade later, in 2015, she was out of business because she lost most of her clients due to an internal conflict with an employee. Her husband also lost his job, but she decided that it would not be a year of bad memories and proposed to take a long trip with her family.
They visited more than 14 countries and more than 50 cities in America and Europe.
For Meacham, that year was also spiritual, reflective, and seeking a purpose in life. Her life, work, family, friends, well-being, or her community revolves around eight principles that she calls "F8" and shares them on her blog, www.f8journeys.com.
Under these concepts, she seeks a balanced life and to be grateful.
She makes donations to organizations like Charity Water (charitywater.org) that fight to solve the world's water crisis.
Now, she is excited about her new challenge: promoting the attractions of Croatia, as she seeks to emerge from Covid-19 crisis.
"It has been a dramatic loss emotionally and financially," says Meacham.
"Most trips are planned a year in advance, so the bookings I did in 2019 for trips scheduled for 2020 all got canceled," she said.
"I had to work long hours to cancel everything I had done."
Despite all the inconveniences, Meacham shows her appreciation to the Brevard County's community, who have helped her small businesses not once but twice. She has also received state loan assistance.
Meacham said the tourism industry somewhat recovered last summer and she hopes that the recovery will reach up to 80 percent in 2022.
Meanwhile, she continues to visit tourist destinations.
In 2021, she traveled to Alaska, the Galapagos Islands, and Egypt, and she was counting the days until the long-awaited trip to Antarctica, which was schedule for mid-January.
For more information, visit Meacham's Web site at https://www.anytimebookings.com.
Cessy Meacham works form her office in Melbourne.