Por Javier Molinares
AL DÍA TODAY
PALM BAY — Pabel Soto's inspiring journey from a grocery stoker to the co-owner of the thriving restaurant "Cocina Café" is a testament to the power of hard work, dedication, and entrepreneurial spirit. In an exclusive interview, Soto shared his remarkable story and the passion that drives him to succeed.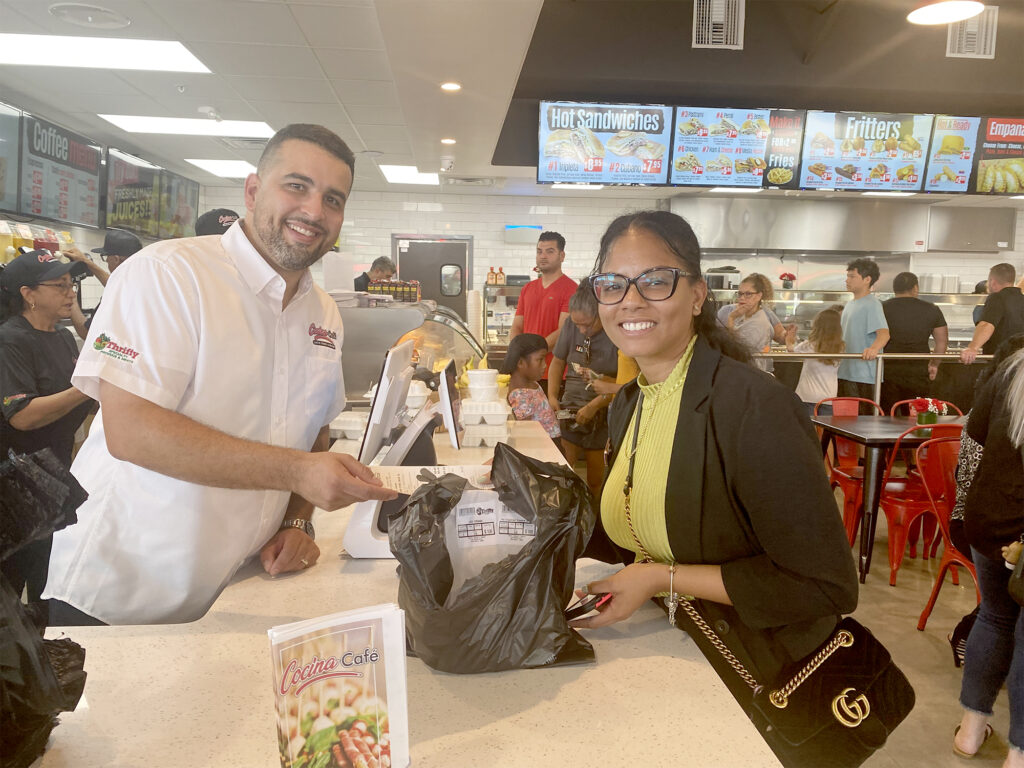 Originally hailing from Santo Domingo, Dominican Republic, Soto set foot in the United States at the age of 22, driven by the pursuit of better opportunities. After spending a few years working in various roles in New York, destiny brought him to Orlando, where he found employment at Bravo supermarkets.
During his time at Bravo, fate intervened and led him to cross paths with Pedro Hernández, the owner of Thrifty Specialty Produce. As both operated supermarkets nearby, their professional relationship soon became a lasting friendship.
In 2012, Pabel Soto received a life-changing offer from Pedro Hernández, who invited him to work at Thrifty Specialty Produce. He started as a grocery stoker, a position he embraced with enthusiasm and the desire to excel.
"I always gave my best and hoped to become a great employee," recalled Soto.
Recognizing Soto's dedication and hard work, Hernández witnessed his meteoric rise through the ranks within the company. With determination and leadership skills, Soto earned promotions, eventually securing the position of General Manager at Thrifty's busiest store in Palm Bay.
"I feel incredibly grateful for the opportunities Pedro gave me. He saw my potential, and I am proud of my progress within the company," Soto said with humility.
Soto's journey did not reach its conclusion there. Thrifty Specialty Produce's thriving growth paved the way for a new chapter proposed by Pedro Hernández: the establishment of "Cocina Café," a restaurant that would celebrate the rich flavors of their Latino heritage with the community.
Confident in Soto's culinary prowess and passion for food, Hernández envisioned "Cocina Café" becoming a local favorite, offering quick and delicious meals for those craving authentic Latino cuisine.
"I saw the opportunity in Palm Bay for a restaurant like ours. I believed in Pabel's ability to make it a success, so I offered him the chance to co-own and operate the restaurant," said Hernández, praising Soto's dedication.
Accepting the offer with enthusiasm, Soto embraced the new challenge with determination. Together, they worked tirelessly to create a menu that reflected the rich flavors of Latin American cuisine, and "Cocina Café" officially opened its doors to the public on July 14.
Mariela Chopite, the esteemed public and community relations representative at Thrifty, also voiced her admiration for the partnership between Pabel Soto and Pedro Hernández, the owner of Thrifty Specialty Produce.
"I admire how Pedro, as the owner of the businesses, sees the potential in his employees. Pabel has been working for Thrifty Palm Bay for 10-11 years now, and for Pedro to recognize his potential and appreciate his hard work and effort, turning him into a partner in one of his businesses, speaks very highly of Pedro and Pabel," praised Chopite.
Mariela Chopite's and the community's support further solidifies the positive impact these two entrepreneurs have made and continue to make in Brevard County.
"Pabel is hardworking, and his family greatly supports him, including his wife. I believe this partnership will result in something very positive, and I hope they continue to expand their businesses together and do more things here in Brevard County," she added.
Since its opening, "Cocina Café" has garnered overwhelming support from the community. The restaurant quickly earned a reputation for its warm ambiance, impeccable customer service, and, of course, its exquisite dishes, which include Roast Pork (Pernil asado), Oven-Baked Pork Ribs (Costilla de cerdo al horno), Sautéed Beef Steak with Onions (Bistec de res encebollado), Beef Stew (Carne de res guisada), Garlic Tilapia Fillet (Filete de tilapia al ajillo), Garlic Shrimp (Camarones al ajillo), Seafood Paella (Paella de mariscos), Roast Chicken (Pollo asado), Chicken Stew (Pollo guisado), and Chicken Lasagna (Lasaña de pollo).
Deeply grateful for the love and appreciation shown by their customers, Soto and Hernández are committed to serving the community they hold dear.
"Our company strives to do things not just for profit but to provide a service the community truly deserves," emphasized Soto.
With their restaurant's resounding success, Soto and Hernández plan to continue expanding their business, sharing the flavors of Latino cuisine at more locations and touching the lives of countless individuals.
Pabel Soto's story serves as a poignant reminder that the American dream becomes an attainable reality with dedication, perseverance, and the unwavering support of those who believe in us. From a grocery stoker to a co-owner of a thriving restaurant, Soto's journey is a powerful testament to the indomitable spirit of hard work and the pursuit of one's passion.
For those eager to savor the delights of "Cocina Café," it can be found at 1150 Malabar Road, Palm Bay, FL 32907. The restaurant operates Monday to Friday from 6:30 a.m. to 8 p.m., Saturdays from 8 a.m. to 6 p.m., and Sundays from 8 a.m. to 6 p.m. For more information, contact them at 321-327-2707 or follow them on Instagram at @cocinacafefl.