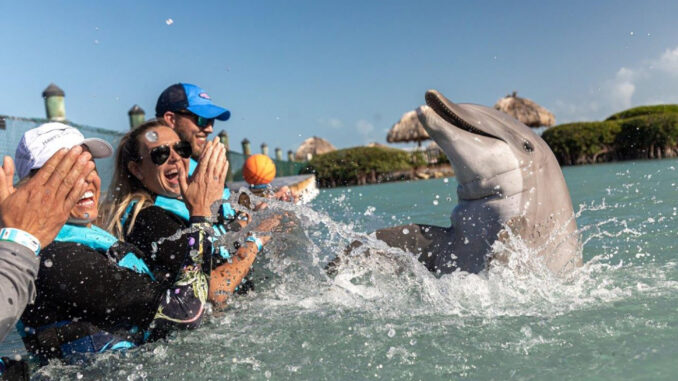 By Georgina Cruz
Right about now, many Floridians are planning their summer getaways. A popular choice, particularly these days when we hope for the end of the pandemic, are "staycations." After all, as the Irish writer George Moore put it, "A man travels the world over in search of what he needs and returns home to find it."
"Staycations" are comfortable and easy: without the hassles of having to arrange a passport, visas and flights, as they do not require us to travel too far from home. Yet these footloose and fancy-free escapes provide a change of scenery and, in our case in the Sunshine State, they can pack a lot of Florida fun into a few days. And there is something for every taste: beach idylls, thrilling theme parks, seaside resorts and exciting cityscapes.
Here are some ideas to consider:
· Days in a Florida icon – Can't get to Italy this year? No problem. The Breakers, Palm Beach, is an Italian Renaissance-inspired palace right here in Florida. Nestled on 140 acres of manicured lawns adorned by beautiful gardens and royal palms next to the Atlantic Ocean, The Breakers is recognized as one of America's most iconic resorts. Its half-mile of private beach with opportunities for water sports such as snorkeling and scuba tours and kayaking is a highlight, but perhaps its most memorable gift to travelers is its palatial aspects that give guests the feeling that they are no longer in Florida, but in a palazzo in Italy. These palatial amenities include its 200-foot-long grand lobby –with decorated vaulted ceilings, sumptuous furnishings, lovely floral arrangements and chandeliers — that has been welcoming visitors for more than 125 years, and The Circle, one of the onsite restaurants that is worthy of an opulent European palace with 30-foot-high ceilings, frescoes and murals depicting scenes from the Villa Medici in Rome and the Villa d'Este with its Tivoli Gardens east of Rome. Recreational amenities include four swimming pools, private bungalows, five whirlpools, elegant boutiques, a spa and more than a half dozen restaurants serving culinary specialties from Italy and Asia as well as seafood, steaks and other delights. Info: http://thebreakers.com.
· Cityscapes – The Palm Beaches in Southeast Florida, comprised of 39 vibrant cities and towns from Jupiter, Palm Beach and West Palm Beach to Delray Beach and Boca Raton, offer urban fun and excitement with multiple attractions including prestigious museums like The Norton Museum and The Boca Raton Museum, family attractions like Lion Country Safari and the Palm Beach Zoo, and superb dining and shopping. A good base from which to explore and enjoy it all is the Hilton West Palm Beach, a hotel with a superb location, less than a half-mile from the West Palm Beach City Center, steps from the Kravis Center for the Performing Arts, and one mile from famous Clematis Street with its special events in Downtown West Palm Beach. The hotel is also eight miles from Lion Country Safari, two miles from the Flagler Museum, 11 miles from the Coral Sky Amphitheatre and about two miles from the beach. Rooms and suites are spacious and comfortable and hotel amenities include an oasis-like pool adorned with lots of palms and greenery, four onsite dining and drinking venues, concierge services, and free Wi-Fi. One of their restaurants, Galley, is led by Chef Guillermo Eleicegui who highlights his Argentinian roots in menu specialties such as delicious beef empanadas and grilled meats. Info: https://www.hilton.com/official_site/west_palm_beach. For info about area attractions, visit https://www.thepalmbeaches.com/.
· Park places – If you would like to escape to worlds of fantasy and fun during a "staycation" this summer, Orlando, the so-called "Theme Park Central " with such world-class attractions as Disney World, Universal Orlando and SeaWorld Orlando, may be your ticket. A good lodging choice is The Walt Disney World Swan & Dolphin, a Marriott resort, located just steps from Epcot and Disney's Hollywood Studios (guests can walk or take complimentary boats to those two parks and free buses to other Disney World parks and attractions). The lakeside Swan & Dolphin, designed by noted architect Michael Graves, has lovely settings including a beautiful grotto pool with waterfall, and five other pools. Lodging can be in the guest's choice of three resorts: the Swan, the Dolphin (each of these crowned with sculptures of swans and dolphins, respectively, that architectural experts have called "colossal works of art") and the new, more boutique-style Swan Reserve. Resort amenities include the Mandara Spa, a 10,500-square-foot facility inspired by the Indonesian island of Bali. It offers Balinese décor, beauty salon, and a Tea Garden (a lovely sitting and sipping room), delightful Meditation Garden and other relaxing areas, as well as a variety of massages, facials and treatments utilizing exotic ingredients such as frangipani, coconut and lava rocks. A Fire & Ice manicure and pedicure is another pampering delight. There are 10 restaurants in the Swan & Dolphin and one in the Swan Reserve. Info: www.swandolphin.com. Another option for families in Orlando, particularly those with small children, is Disney's Contemporary Resort, within walking distance to the Magic Kingdom. Info: www.disneyworld.com.
· By the sea, by the beautiful sea – In this category, it sometimes seems that Florida has almost as many resorts as the Sunshine State has sunrays. Three of our favorites throughout the years have included Hawk's Cay Resort on small, secluded Duck Key, near Marathon, in the beautiful Florida Keys (Hawks Cay Resort: Florida Keys Resort & Marina); Disney's Vero Beach Resort (Disney's Vero Beach Resort (go.com)); and Costa d'Este, singer Gloria Estefan's hotel, a boutique-style property, also in Vero Beach (Vero Beach Resort | Costa d'Este Beach Resort (costadeste.com)). These three family-friendly seaside properties offer an abundance of recreational activities for all ages, gorgeous beaches and excellent restaurants. Special highlights of each include a gorgeous lagoon carved out of the ocean, fishing charters, and a swim with the dolphins experience in Hawk's Cay; kids' water-play areas, including a spiraling pool slide and the Tiger Lily, a Peter Pan pirate-themed boat complete with water cannons at the Disney Vero Beach Resort; and morning yoga by the sea and lovely poolside/seaside outdoor dining including a firepit and live entertainment on the pool deck at dinner at Costa d'Este.