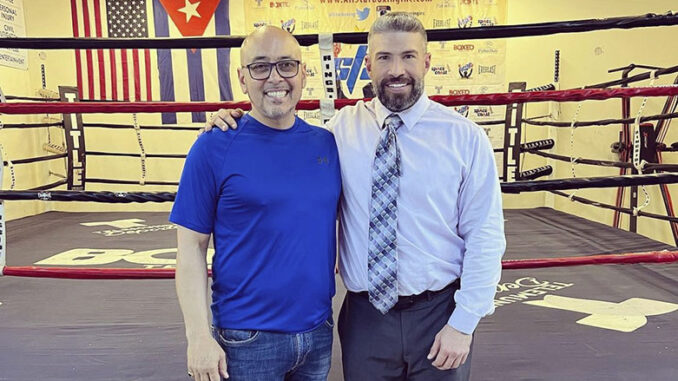 Attorney Daniel Martínez helps those most in need
By Jesika P. Millano
For Al Día Today
PALM BAY – For local lawyer Daniel Martínez, no two clients or cases are ever the same.
Which is why he approaches each with a detailed and individualized strategy that best suits the client's needs.
Of Uruguayan origins, Martínez was born in New Jersey. He graduated from law school at age 33 but also studied business in Orlando and worked in finance. However, in 2015, he rededicated himself to doing what he really loved: practicing law.
He fell in love with the profession at a young age.
"As a child, I was interested in studying a professional career that would give me the opportunity to help the weaker classes of our community as well as take on the responsibility of becoming the voice of many families who are not heard by our society when an unexpected legal problem arises," he explained.
"I wanted to use my skills to communicate and to report."
Martínez says one of the things he loves most about his profession is being able to help people. He got the opportunity to do just that while working at one of the largest firms in Orlando.
The experience opened his eyes to the reality that hundreds of Latinos don't have the resources to pay for legal assistance.
He kept that in mind when he opened his own firm, Martínez Law.
The law firm, now located in Palm Bay, is one of the few in the area that offers services in Spanish.
"Our firm has represented thousands of clients. The highlight of it for me has been to have the opportunity that God gave me to see the joy of many clients who could have spent much of their lives imprisoned but, thanks to this profession and my help, are free today," Martínez said.
Since opening his law practice, Martínez has become known for his leadership, reputation, influence, and trial results, and for being a qualified attorney in criminal defense, personal injury, wrongful death, civil litigation, business litigation and family law.
In addition, he stands out among those in the legal community for his great contributions as a pro-bono lawyer. In fact, his consultations are totally free because he states that he does not like to take money before knowing if his services can help or not.
"I never cashed out, and I will not collect without knowing if I can help my client in his case," he said.
When not working, Martínez devotes much of his free time and resources to various charitable causes, especially in the areas of sports and youth education. Much of his support is geared toward a local boxing gym helping at-risk youth to improve their lives.
In 2019, Martínez was chosen by the National Trial Attorneys as one of the 40 most qualified criminal defense attorneys under age 40 in Florida.
For him, being chosen as one of the top lawyers in the state reflects more on his skills in the courtroom rather than his years of experience or how much money he earns.
"I have always considered myself a trial lawyer who defends those who need it regardless of the financial compensation that this means," he said.
Professionally, Martínez's goal is to continue to represent clients in accident and personal injury cases as well as be their legal representative in all types of criminal cases.
His more personal plans include continuing his work with the boxing gym and extending its use to other organizations that are also focused on providing youth with better pathways to life.
The Law Offices of Daniel Martínez are in Suite 2, 3565 Jupiter Blvd. SE, Palm Bay, FL 32909. For more information, contact Attorney Daniel Martínez at (877) 574-4487 or visit his website at www.theMartínezlaw.com.