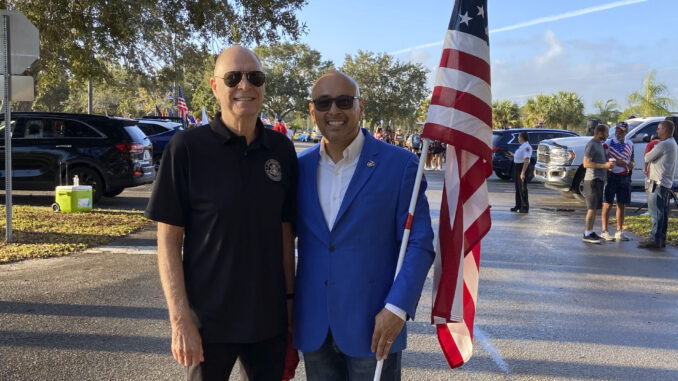 Por Rob Medina
Palm Bay Mayor
As the new year begins, I can't help but look back at all the great things 2022 brought us. Although there were challenges, the City of Palm Bay was able to grow and flourish tremendously over the last year. We had so many great accomplishments, more City events, new projects, and new businesses come to Palm Bay. My resolution to all of you is to continue to lead this great city to a better, brighter future.
First and foremost, I want to recognize our dedicated, hardworking employees and thank them for their many years of service to the City. The City completed a decades-overdue citywide salary study and I'm proud to say that City Council unanimously approved funding the recommendations of the consultant, which included salary increases averaging approximately 15 percent. This much-needed classification and compensation study was designed to review internal pay equity, external competitiveness, address recruitment and retention needs, and review and revise class descriptions which will ultimately assist the City's efforts in recruitment and retention and show our employees how much we value them.
I hope you were all able to join me at the 14th Annual Family Christmas Extravaganza Event, the largest Christmas party on the Space Coast that seems to get bigger and better every year. This 100 percent F-R-double-E, free, community event had live entertainment, food, and lots of activities, including bounce houses, horse rides, face painting, and giveaways. This year, the event had its first-ever motorized ride! Keep an eye out for next year's event, which is guaranteed to be even bigger!
On January 16, we honor the life and achievements of Dr. Martin Luther King Jr. Dr. King was an influential civil rights leader — best known for his work on racial equality and ending racial segregation in the United States. In 1963 Dr. King said, "The ultimate measure of a man is not where he stands in moments of comfort and convenience, but where he stands at times of challenge and controversy." I'd like to think that we as a community have embraced the challenges brought forth to us and persevered to a greater Palm Bay and will continue to do so.
Each year on International Holocaust Remembrance Day, our nation's annual commemoration of the Holocaust, we remember the six million Jews who were murdered and honor the survivors. Let us reflect upon the terrible events of the Holocaust and remain vigilant against hatred, persecution, and tyranny.
Thanks to the City Manager's ongoing initiative to improve public safety, and the support of City Council, Palm Bay Fire Rescue received their new Engine 6 on November 10. Engine 6 is in service at Fire Station 6 near Bayside High School, and serves all the Bayside Lakes communities and businesses, as well as the Compound and all the properties and land that make up the southwest borders of Palm Bay. Engine 6 is a Pierce Saber 1000-gallon pumper that is significant for the area because it carries a larger water supply which is critical for an area with fewer fire hydrants. That extra water allows crews to fight fire longer, until other units arrive on scene. Engine 6 provides enough space to secure up to 6 passengers, if necessary, and provides enough compartment space to carry all essential firefighting and emergency medical equipment.
The Palm Bay Public Works Department has been hard at work with the $150 million GO Roads paving program. As of December 2022, more than 306 miles or 39% of the total 791 miles of roadway were completed. Phases One and Two are fully complete. Phase Three is underway with Unit 48 and Unit 30 in process. Emerson Drive from the C-1 Canal to Fairhaven has recently reopened with widening at Glencove and paving of Emerson Drive between Amador and Jupiter to begin in early January. Visit www.pbfl.org/projects for more project updates.
In closing, I want to remind everyone to save-the-date of March 18, 2023 for the annual Mayor's Ball charity fundraiser. As this cause is near and dear to my heart, I will continue to raise funds for improvements to the monument at Sacrifice Park, a memorial honoring first responders who gave their lives while serving our great city and the Brevard County community.
Sacrifice Park was originally constructed in the early 2000s to honor Palm Bay Police Officers Ronald Grogan and Gerald Johnson, who lost their lives in the line of duty on April 23, 1987. Now, the memorial stands as a reminder of the solemn commitment that our police and firefighters make each day to protect and serve our community.
This year's Mayor's Ball aims to raise over $100,000 towards the construction of a new monument at Sacrifice Park. The last Mayor's Ball raised over $40,000 for the architectural and landscape design of the Park, and I can't thank you enough for your generosity and support. I humbly ask for your continued support of this effort by becoming an event sponsor or contributing a donation. Please help me build a lasting tribute for the brave men and women who serve our community with honor and distinction every day.
As Mayor of the greatest city on the face of the Earth, I feel it is my duty to give back to the community, and it is my mission to give our valued first responders a memorial of which to be proud. I hope that you will consider joining me in this worthwhile effort to honor the service and dedication of our emergency service professionals. For information about the upcoming Mayor's Ball, sponsorship opportunities, and for a sneak-peak of the proposed improvements to Sacrifice Park, visit www.palmbayflorida.org/mayorsball. Congressman Bill Posey and Palm Bay Mayor Rob Medina wish the entire Brevard community a happy new year filled with prosperity, love and many blessings.