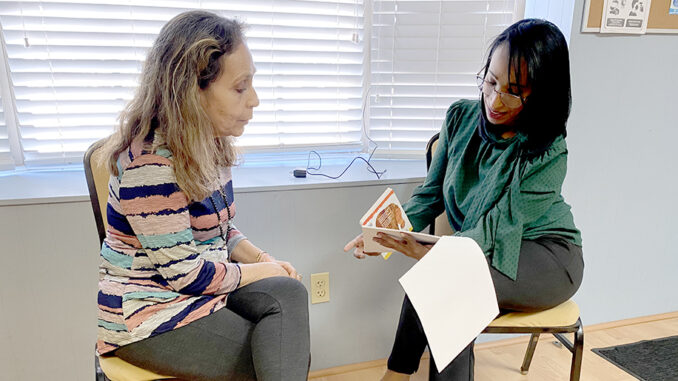 Por Jesika Millano P.
Para Al Día Today
ALM BAY – PALM BAY – Providing families with the tools to help their preschool-aged children achieve their educational goals is one of the main motivations of teacher Wasilika Verdejo.
She works with Hippy USA, a non-profit organization started in 1991 to provide education programs for children at home.
Verdejo is one of the organization's home visitors in Brevard County, in charge of supporting children's development and learning and promoting positive and receptive relation-
ships with families.
She says that language is a barrier for many Hispanic families but feels the program helps them receive the necessary guidance on supporting the development and learning of children in areas such as literature, mathematics, science, motor and language.
"In addition to providing all the materials, my job consists of meeting with the families and explaining to them step by step how the lesson is going to be done with the children," Verdejo says.
But her duties do not stop there.
"This is not only a program that educates the father so that he educates his son, but it helps families solve other problems they may have," she adds, including those associated with parents who have not mastered the English language, lack of communication or other elements.
"My greatest satisfaction is to see that a family and a child have been able to achieve the goals and that, in the future, I see that child graduate, or her parents show me the notes," Verdejo adds.
She feels that being able to help families is more than an educational process. It is social work.
"I am very happy that everyone has the same opportunity. It is a totally free program, and we provide all the tools with love and patience," Verdejo says.
"The most important thing is education, and if we get our children to be well educated, we will achieve a better future."
The Hippy USA home visiting model is considered one of those that meet the evidence-based criteria of the federally funded Maternal, Infant, and Early Childhood Home Visiting Program.
Its two- or three-year curriculum is specifically designed for parents who may not feel confident in their own abilities to teach their children.
Hippy USA also seeks to strengthen children's cognitive and early literacy skills as well as their social, emotional and physical development. In addition, it promotes enriching learning experiences for parents and children based on the interests and strengths of children, encouraging them to participate in activities of movement, play and active exploration.
Currently, the program serves 15 families in Palm Bay.
The HIPPY Program Home Visitor, Central Florida Child Health Program Inc., is located at 1802 South Fiske Blvd., Suite 105 in Rockledge. For more information, call (321) 305-5879 or (321) 750-6280, for information in Spanish.