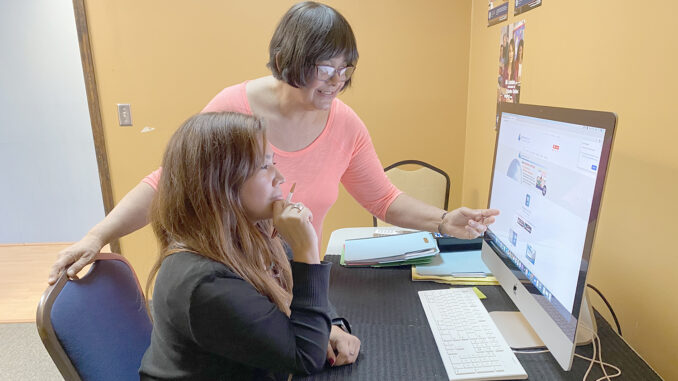 Por Jesika Millano P.
Para Al Día Today
PALM BAY – Nivia Torres has been educating with love and patience for more than 15 years, and her experience has helped her students discover the power of motivation to successfully learn whatever they set out to do.
As a teacher, she has always believed in giving and sharing. She also believes having positive expectations of her students, from beginning to end, is the main focus when educating them.
She is a teacher with the English Language Integration Program (ELI) at the Brevard Hispanic Center, a resource offering personalized help in English-language communication to people who emigrated to the U.S.
"My greatest satisfaction is helping people achieve the American dream," said Torres, who grew up in Puerto Rico.
"When my students manage to demonstrate their abilities, I feel complete and happy to be a part of that progress and, at the same time, to be able to continue with my dream of teaching," she said.
Torres has wanted to be a teacher since she was a child, and after getting married and moving to the U.S., the opportunity arose to volunteer in schools, and later, work as a Spanish teacher. And even though she's retired, her passion for teaching remains intact.
"Teaching is something that I carry within me and I always want to transmit it," Torres says.
Ana Díaz, the principal at University Park Elementary in Melbourne and secretary of the Brevard Hispanic Center, said that each job that Torres has carried out is done with the same love and dedication that she showed towards her own son.
"I met Nivia more than 20 years ago. I was a teacher at Riviera Elementary and she was the mother of one of our students," Díaz said. "She was one of those mothers very involved in the education of her son.
"During a conversation with her, I learned she was a teacher in Puerto Rico and I advised her that she should be a teacher here in Brevard," Díaz explained.
This is how Torres started as a substitute teacher, teacher assistant, and English as a Second Language (ESOL) instructor at Riviera and Port Malabar elementary schools. She later became an ESOL teacher for adults.
"She has a natural patience, but I think the most beautiful thing about Nivia Torres is that she is genuine. Her affection and her concern for her students make the student, whether younger or older, feel heard and capable," Díaz said.
For Matilde Páez de Baracaldo, one of Nivia Torres's students in the ELI Program, that same dedication and passion in her virtual classroom helped her successfully pass the citizenship test.
"I am from Colombia and although I have lived in this country for years, my level of English was very basic. However, Nivia gave me a lot of encouragement and confidence," Páez said.
"She always motivated me and believed I was capable of achieving my goal. From the beginning she was very aware of my learning process, regardless of whether it was the weekend. She always made me feel important, "she added.
For her part, Torres said she was satisfied that her student had successfully passed the exam and obtained her citizenship.
"When I see the faces of my students, their joy and happiness, it is as if they were transmitted to me. Perseverance to achieve goals 'infects' me and makes me very happy. It is the greatest gift for a teacher," Torres said.
She further stated that through the ELI Program, a door was not only opened to continue teaching, but also to help and inspire many.
She believes that it is never too late for people to learn and to achieve their dreams.
For more information about the ELI Program, call the Brevard Hispanic Center at (321) 327-8938.