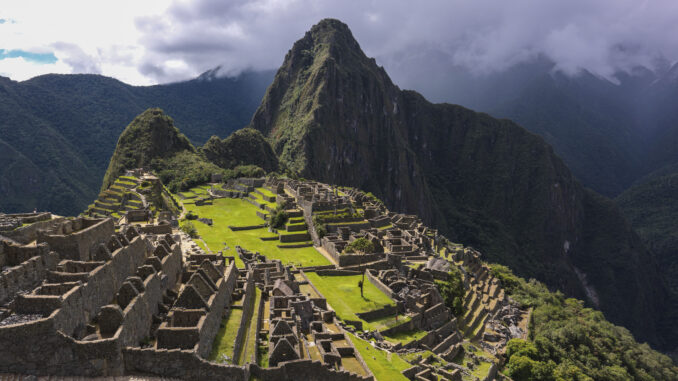 Can't go to Peru and Japan this year? No problem. Just head to Palm Beach and the surrounding area. There you will find international treasures from those countries in the heart of Florida's east coast.
Lovers of Peruvian culture can head straight to the Boca Raton Museum of Art for the "Machu Picchu and the Golden Empires of Peru" traveling exhibit that made its world premiere there. this fall and will continue on display until March 6 when it leaves the Boca Raton Museum of Art to continue its international tour.
Machu Picchu, the site of the legendary, ancient Inca city which has become one of the world'stop tourist destinations, was stumbled upon in 1911 by American archeologist Hiram Bingham who described it as "a jungle covered maze" on a mountain northwest of Cuzco in southeastern Peru. A UNESCO World Heritage Site since 1983 and voted one of the New Seven Wonders ofthe World in 2007, it is believed it was a palace complex of Pachacuti Inca Yupanqui who reigned during the 15th century.
The exhibition at the Boca Raton Museum of Art presents a selection of 192 Andean artifacts that are a legacy of the Inca culture and dozens of advanced societies that flourished in ancient Peru for more than 3,000 years. The artifacts, many from royal tombs and many of which have never been seen out of Peru, are on loan from Museo Larco in Lima, Peru, and Museo de Sitio Manuel Chávez Ballón in Aguas Calientes, Peru. Among the highlights are several gold masks and objects, some encrusted with precious stones, the golden attire of a Chimú emperor that dates to 1300, and various ceramics pieces. The exhibition represents "a dream come to life", said Andrés Álvarez Calderón, president of Museo Larco.
For lovers of anthropology and history curious about the great civilizations of South America, and for travelers like me, who visited and admired Inca ruins during the past decade, the exhibitis a moving reminder of the richness of Andean cultures.
Encompassing the entire Boca Raton Museum of Art, in addition to Andean artifacts the exhibit also offers an immersive experience, "Machu Picchu and the Spirit of the Condor," a virtual visiton cinematic chairs to the ancient citadel. This optional experience features the founder of Machu Picchu, the grand Inca emperor Pachacuti, who infuses viewers with the spirit of the condor then flies with them across the magnificent landscape. On their journey, viewers come across the city's ancient inhabitants and some of its most iconic locations including the Temple of the Sun and the awesome heights of Huayna Picchu. Cinematic motion chairs help bring the experience to life, complete with a thunderstorm and even an earthquake.
Admission to the exhibit is via timed tickets. Tickets to "Machu Picchu and the Golden Empires of Peru" are $19.95 for children and $29.95 for adults. The virtual experience is $100. The Boca Raton Museum of Art is at 501 Plaza Real in Boca Raton. For information, visit Machu Picchu and the Golden Empires of Peru | Boca Raton Museum of Art (bocamuseum.org).
Another magnificent cultural experience in and around Palm Beach takes visitors to Japan. This is the culturally Morikami Museum & Gardens, 4000 Morikami Park Road in Delray Beach (https://morikami.org). A little slice of Japan in Florida, Morikami is a museum attraction featuring a rotating collection of more than 7,000 works of Japanese art and Japanese-inspired works, as well as beautiful Japanese gardens that are an oasis in an urban setting. During a mile-long walk, visitors can enjoy various typical gardens in styles from the 9th to the 20th century from sprawling vegetation to rock gardens. Another must-see point of interest is the collection of precious bonsai trees.
To enjoy the flavors of Japan during a visit to Morikami, visitors can opt for lunch at the Cornell Café that serves Asian culinary specialties including coconut shrimp, teriyaki chicken and salmon, and traditional bento boxes. On select Saturdays, you can opt for a tea ceremony at the Seishin-an Tea House to enjoy green tea and a Japanese sweet.
Tickets for the Morikami are $15 for adults and $9 for children.
IF YOU GO – A good place to stay is the new hotel The Ray, from Hilton's Curio Collection a few blocks north of downtown on Atlantic Avenue in the artists' neighborhood Pineapple Grove. Opened this September, it has 141 rooms with balconies, two restaurants, two bars, a pool, and exercise programs. Visit www.therayhotel.com. For reports on Palm Beach and surrounding areas, visit The Palm Beaches Florida |