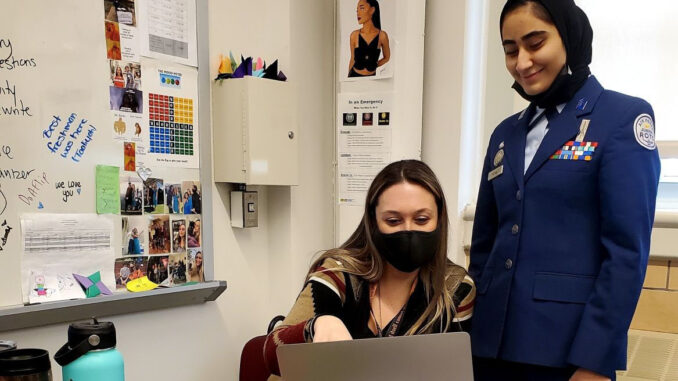 Happy New Year! In this edition, I will be sharing my experience with an Air Force Junior ROTC (AFJROTC) Cadet Captain Zainab Fatima. I have had the pleasure of knowing this amazing young lady for the past 4- years. She is a well-rounded student from Gujranwala, Pakistan. In 2021, she was selected as the Aviation & Rocket Club Commander, the first female to hold this position. As a former intercontinental ballistic missile commander, I am proud of her many accomplishments and job performance. Cadet Fatima's dream is to become an Air Force Flight Surgeon. She shared with me, "Sir, you and MSgt Carr have been my most important mentors on campus. I strongly appreciate your mentorship, guidance, and leadership." I shared with her a quote by John F Kennedy, which connects nicely,"Leadership and learning are indispensable to each other.
Cadet Captain Fatima will be attending City College in upstate New York, majoring in medicine. Once she completes her degree, she plans to become a doctor and serve in the U. S. Air Force. Of special note, she is involved with student government and leads as the event planner in the Brooklyn Lab School (BLS). Ms. Banks is her social studies instructor and student government facilitator at BLS. Banks shared, "Zainab is a hard worker in class and is extremely creative. She works hard and pushes herself to be the best she can be. She is currently a 12th grade representative of the BLS school student government. She is a natural leader, brings many ideas to the table, and provides solutions. She has excellent communication skills. "Fatima shared, "I believe in giving back to my community and leading other young cadets in the AFJROTC program. I know each student will benefit and support others, as well as continue to build a united society."I strongly agree with her statement, and I believe it embodies what Dr.Martin Luther King once said, "Life's most persistent and urgent question is 'What are you doing for others?"
Recently she was recognized by The Law Tribune Society, INC, for her contribution to the 2021 Poster Competition, "Surviving, Thriving and Creating a New World During and After COVID-19", resulting in the first place award. This is the common ground for Fatima because she always strives for excellence. As Mr. Xavier Carr, Esq., Youth Council Chairman of Law Tribune Society, Inc., shared with me, "Zainab embodies the whole person concept by carrying out a plan and staying focused on goals in school, career, and beyond." A true leadership message from a cadet and leader in the making.