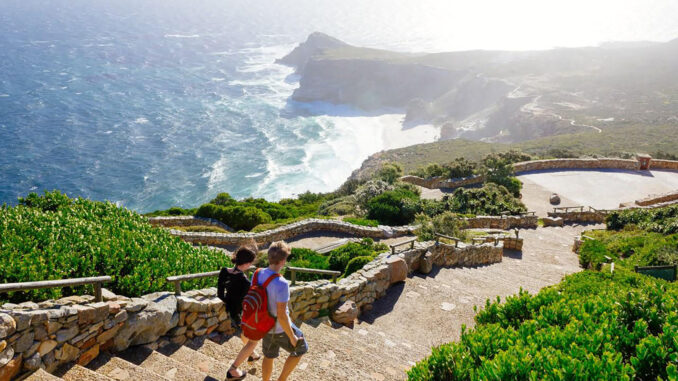 By Georgina Cruz
Portuguese explorers Vasco da Gama and Bartolomé Días came to South Africa during the era of discoveries from the 15th to the 17th centuries. And now modern travelers –including us—come lured by the playground with multiple attractions that is Cape Town, the most southern city of Africa, recently selected as #22 of the "25 Best Cities of the World" by the readers of Travel & Leisure Magazine.
Starting point for safaris
Safaris are what many travelers associate with The Dark Continent and Cape Town is a popular starting point for safaris to nearby game reserves like Aquila, about two hours by car or excursion bus from the city) and to others farther away like Kruger National Park (excursions spending several nights in the park are available traveling by train or plane). These are experiences that my husband Humberto and I have enjoyed through the years, and that leave participants feeling they have lived adventures from the novel by Karen Blixen, "Out of Africa" made into a film with Meryl Streep and Robert Redford. Karen Blixen, by the way, once observed that "if there were one more thing I could do it would be to go on safari once again."
From Cape Town safaris are easy to arrange. In Aquila, for example, during a full-day excursion by bus with buffet lunch including local specialties and fruits including delicious grapes from nearby wineries and a game drive in open-air safari vehicles, we have seen, in addition to exotic panoramas of savannahs and mountains, the "Big Five": lion, elephant. rhino, leopard y buffalo as well as zebras, giraffes and many more animals. Unforgettable!
City attractions
But in addition to the opportunities to go on safari, Cape Town offers many other attractions to travelers. A favorite place to start a visit is at its picturesque Victoria & Alfred waterfront which is a big draw with a ferris wheel, the Cape Wheel, and the Two Oceans Aquarium and lots of cafes with delicious seafood and views of imposing Table Mountain (with and without its "tablecloth" of clouds). Another "must" is a trip up Table Mountain, Cape Town's most famous icon, surrounded by Devil's Peak on the left, Lion's Head on the right and Signal Hill in the foreground. The cable car up to Table Mountain was included with our hop-on/hop-off ticket from City Sightseeing –the bus dropped off at the cable car station. We ascended to the Mountain Station (3,500 feet high) in a Swiss-engineered Rotair cable car –the journey up took just under four minutes, and the views were 360 degrees spectacular as the floor of the cable car rotates during the ascent and descent. From the summit, which forms a kind of amphitheater enclosing the city center and some of the older suburbs of Cape Town more panoramic views await as wells as also of the natural protected area stretching from Signal Hill to Cape Point. This area, managed by the National Parks Board, has one of the highest concentrations of endemic plant and animal species –2,285 plant species alone.
Another must-see is the iconic Belmond Mount Nelson Hotel (it is a stop on one of the City Sightseeing Bus routes, or a short taxi drive from the Victoria & Albert Waterfront) to partake in the hotel's famous afternoon tea. A legendary hotel that was painted pink in 1918 for peace, it is located within a sprawling garden estate and boasts lovely and grand colonial architecture and a nostalgic, elegant ambiance –all in the shadow of Table Mountain. Past guests have included the Prince of Wales, John Lennon (who was said to love to meditate in the hotel's gardens), Sir Winston Churchill, and Nelson Mandela.
The Belmond Mount Nelson Hotel's afternoon tea –we love this civilized custom of afternoon tea—features a buffet of delicacies and goodies including rare roast beef, delicate smoked salmon and creamy egg mayonnaise finger sandwiches, as well as sinful velvety chocolate cake, lemon meringue, and scones with cream and preserves. The tea is accompanied by classical piano music so Humberto –an aficionado of the piano—and I lingered.
Since we had an overnight in Cape Town it was also possible to enjoy dinner at the hotel's Lord Nelson restaurant, with tantalizing local specialties including West Coast Oysters, Springbok Loin and a guava mousse for dessert. It was a memorable –delicious—highlight during our visit to Cape Town.
Info: Visit https://www.capetown.travel/.
Link to photos: https://1drv.ms/u/s!Aj3WYZizi6uq4BD1SWgPVS3ztg6N?e=WIhj2T