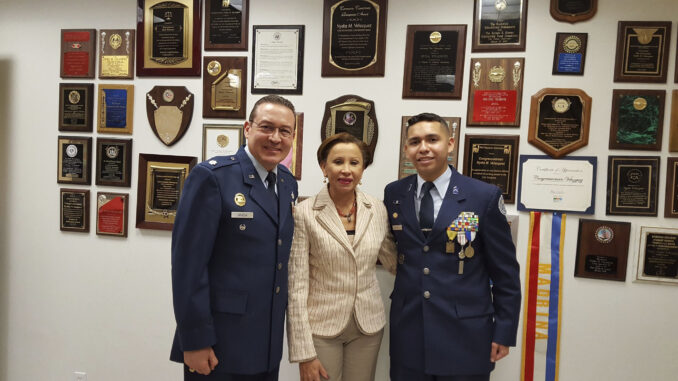 By Lt. Col. Ralph Gracia USAF Ret.
Guest Columnist
In this edition I will highlight Second Lieutenant (2nd Lt) Richard Pardey, a 2022 United States Air Force Academy (USAFA) graduate. A Colombian native who took immense pride in leading his organization to new heights. Mr. Javier Molinares, AL Día Today Newspaper's chief editor, and I are proud of his numerous accomplishments. It all started with a dream about attending USAFA. It was an honor to have Cadet Pardey in my Air Force Junior ROTC (AFJROTC) program from 9th to 12th grade. He enjoyed our AFJROTC program at Franklin K. Lane Educational Campus in New York City. It gave me tremendous joy to be surrounded by an enthusiastic human being like him. Now, Richie is living the American dream.
I strongly believe the AFJROTC was the cornerstone of 2nd Lt Pardey's successful pathway. The benefit of participating in the program were valuable, and soon it became his home and family. His leadership and dedication at AFJROTC, where he was the unit commander, were also key indicators to a successful journey. As he shared, it took hard work, passion, and determination to stay focused throughout the USAFA selection process. In 2017, Cadet Pardey interviewed with New York State Congresswoman Nydia Velazquez and was awarded a prestigious congressional appointment to the USAFA Preparatory School. A year later he was a fulltime cadet at USAFA. Richie is living proof that anything is possible!
Recently, 2nd Lt Pardey was assigned to Naval Air Station in Pensacola Florida where he is attending Undergraduate Combat Systems Officer Training. I am proud and ecstatic to have Richie turn his dream into reality. He exemplifies the meaning of inspiration and a "can do attitude." Richie works hard every day to lead the way for others to follow. Officers like 2nd Lt Pardey display leadership, self-confidence, and discipline qualities necessary to thrive in any career.
In two interviews I conducted in 2014 and 2017, Richard shared great passion in both articles I wrote entitled "Leadership Success A Dream Come True!" and the other, "Leadership through Outreach Programs…A Must for Our Youth!". He pointed out, "Dreams must be pursued with purpose regularly…my dream is to attend the USAFA. Stay focused on your goals in school, your job, and in life is also important." I also asked him, "what he would recommend to those fulfilling their dreams after high school?" Richie replied, "The most important thing is to be consistent, work hard, and stay motivated. Remember, you only have one life, so use your time and opportunities wisely." In the words of John C. Maxwell, "A leader knows the way, goes the way, and shows the way." This is Second Lieutenant Richard Pardey's trademark!